The all-inclusive service for the customers is a hot topic nowadays. Pre-visits, custom-made products, installation, commissioning, formation, maintenance,… However, not all companies have the chance and privilege to offer this service. Lucky for you, Pronal has its own team dedicated to global service since its creation! A genuine dream team of experts ready to satisfy you and that is what we are going to show you.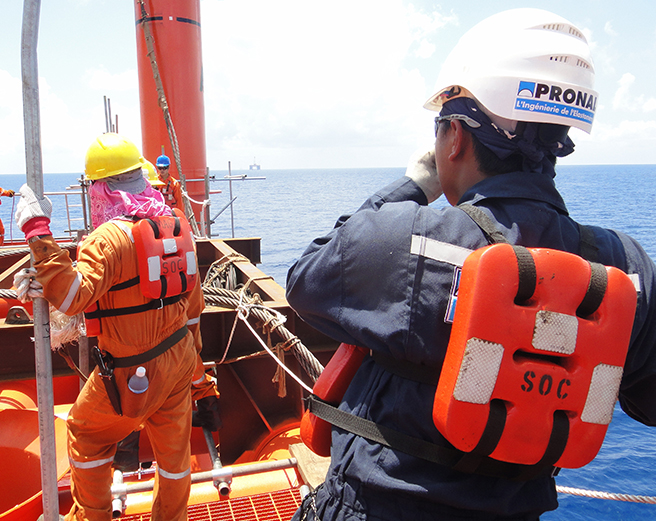 1. Fearless
As some sort of super-hero, our global service's staff is ready to go where the customer needs him and his skills. Whether you are on an island, on a risky or distant site, on an offshore platform,… our experts can take action! The service also has the right accreditations to work in almost every situation such as:
nuclear

, in the primary or secondary zone or monitored area,

oil & gas

, downstream or upstream,

military

, in risky and/or distant area,

industry

, as a whole,
and

environment

, offshore or onshore.
2. Upstream and Downstream
Our global service takes action upstream and downstream. First, upstream as a pre-visit can occur. That will ensure that our product fully meets your need. Our experts will analyze your application and the environment in which our product will be used. Then, they will recap alongside our commercial and our engineering departments. Both will handle that information to adapt our proposition to your space constraints.
Second, downstream for:
installation

on-site or

the assistance with assembly

with the customer's labour force,
commissioning of the system,

training

of the users to our products,
and

preventive and/or curative maintenance

.
3. Expert in all subjects (or almost)
Our operators know our products and how they work by heart. However, they can also call on other skills such as mechanical, electrical, civil engineering… If those are missing, we call on our most professional partners.
Working well means be well equipped, that is why all the essential and mandatory equipment are already at their disposal: personal protective equipment, tools, maintenance materials,… You only need to welcome them with a smile (and a coffee in the best cases)!
All in all, our global service is composed of skilled and reactive people who are ready to listen and support you. Whatever the size of your company, our team will be at your disposal for all your projects. Besides, we invite you to discover our other services such as the lab. Feel free to contact us in order to call on our expertise!